Have you heard of Kintsukuroi?
It is the Japanese practice of repairing what is broken by fusing it with pieces of silver, gold or platinum.  This is a wonderful metaphor for our lives.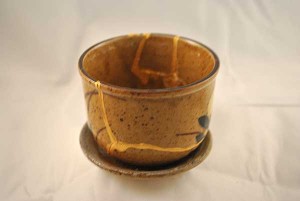 As a philosophy it speaks to breakage and repair becoming part of the history of an object, rather than something to disguise.
This is us, God fills in our broken or weak spots with his glory and makes us better than we were before.
When he does the repair he leaves traces of himself to remind us of our deliverance.
Instead of seeing scars, we can focus on what was left behind after the repair.
While handcrafting us he envisioned his purpose for us and spoke it in and over us.
For I know the thoughts that I think toward you, says the Lord, thoughts of peace and not of evil, to give you a future and a hope.  Then you will call upon Me and go and pray to Me, and I will listen to you.   And you will seek Me and find Me, when you search for Me with all your heart.  I will be found by you.
Jeremiah 29:11-13 reminds us of God's plan for our lives.  He knew what he wanted us to be and to accomplish and worked his will into us.  For our benefit he added a life sustaining dose of grace and mercy into the mix.