Three months ago today I woke up to about a foot and a half of water gushing through my apartment I shared with my mother. After registering what was going on and reverting, temporarily,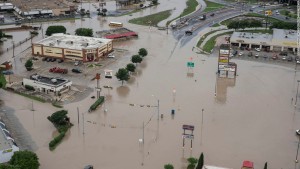 to a four-year-old child, I screamed her awake. A few moments later I grabbed my dog, and we waded through the river flowing through our apartment to the second-floor landing.
It was around 5:00 in the morning and one by one my neighbors opened their doors to a very similar reality.  There was a sense of community and camaraderie as we watched with utter amazement, as the Blanco River flowed through our apartment complex grabbing everything in its path and taking it along for the ride.
As the sun rose, and the waters receded my mother and I sloshed through our apartment, grabbed a few things and drove to my brother's house. The next few days were filled with multiple trips back and forth to salvage and pack up what we could and wash loads upon loads of mud-soaked clothes.
This experience was one that I pray I never have to go through again. It was both uncomfortable and inconvenient, and though my mother and I were physically safe, it took an emotional toll on us. In the end, I began to wish that everything of ours had washed away so we wouldn't have to relive the devastation over again each day as we continued sifting through the apartment.
Fast forward a month and things were quite a bit different. My mother was now living in Houston, something she'd planned for later in the year, and I was wavering back and forth between remaining in San Marcos or moving back to Houston, temporarily. I didn't want to do either.
Before the flood, I was planning to move to Iowa City in September, but it seemed that the Blanco River and its shenanigans wanted to delay my plans. At first, I thought that I'd have to postpone my move, thankfully, I was wrong. Due to an unexpected, but much appreciated financial blessing I was able to replenish my savings and fund my move to Iowa City with no stress, strain or difficulty.
I was excited beyond words. I began telling more and more people that I was moving to Iowa, and though it was hard to leave my family and friends, I did.  On July 24th, two months after the flood, I spent my first night in Iowa and started my new life.
I spent the next couple of weeks looking for an apartment and getting acclimated to the city. I've always been one to enjoy hotel living but living out of multiple suitcases for an extended period quickly ceased to be as enjoyable as I thought it would be. I longed for my space. A space where I could officially unpack, stretch out, cook a home cooked meal and sip multiple cups of tea while doing nothing.
I have fallen in deep like with Iowa City and the University of Iowa. It is a beautiful place, and it is full of literary culture, activities and books, lots and lots and lots of books.
The rest of 2015 will be spent perfecting my writing sample and applying for The Iowa Writers Workshop and immersing myself in the local writing community. My ultimate desire is to teach creative writing and, of course, have a couple of best-selling novels.
Looking back over the past three months and all that happened I sometimes shake my head in disbelief. Things did not happen the way I planned, but they happened, and ultimately that's what matters.
As I reflect on the last three months, and all that happened, I am honored that God has blessed me with this opportunity and for that I am truly thankful for the flood.